Church Expansion Information Resources
Campaign Progress
Goal: $3,100,765
Parishioners Participating
Capital Campaign Information Resource Center
Here you'll find all the news and information related to our "United in Faith: Building for the Future" capital campaign to expand our church building. This page will be updated as new information is available, so please check back often.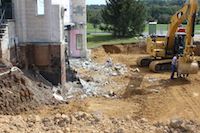 Our second Expansion Photo Gallery shows work progressing on demolition, as well as work on digging out the new foundation.

Church Expansion Gallery Two

Gallery One is still available as well.

Thanks to parishioners Rich and Emily Kopf for providing the great photos.
In case you haven't noticed, there is plenty of action going on to our "Little Church on the Hill" and much progress is being made. The foundation is already being dug to begin the next phase of construction.

Viewing our progress can be done safely on our website, which will reveal the various phases of construction as they become available. A slide show presentation will also be available in the narthex before all Masses for those who are not able to access the website. Please take a peek!

While everyone has a vested interest in our church progress, for safety reasons everyone is prohibited from entering the premises during the active construction. No exceptions! Safety is a priority and must be respected at all times.

Pledge and Financial Report
Please remember your pledge commitments as they are more important than ever since cash flow is needed during this active phase of construction. We are grateful for the Matching Gift Challenge raising $63,533. Our deepest thanks to all who participated in the match as well as those donors who funded the challenge.

If you have not yet committed to our project with a pledge, please prayerfully consider doing so. Our project is in full process and needs your help.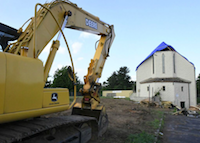 Parishioner/Parish Photographer Rob Preston provided some great photos that show the Church Expansion Project in full swing.

The demolition and clearing out of the old church building can be clearly seen, as crews ready the building for its addition.

We'll post more photos throughout the project as they are available.

Church Expansion Gallery One

Here's the latest news from the Church Expansion Committee:
Our expansion project has officially begun. Our Parish celebrated the groundbreaking for our church expansion on June 25th. Highlights can be found in the Catholic Spirit available at the Parish Center and here.

The actual construction work will commence shortly. Your prayers and patience is needed. We will keep you informed of our progress as we begin work on our "Holy Ground."

Your pledge commitments are more important now than ever. If you have not yet pledged please prayerfully consider participating.

Matching Gift Challenge continues
Our original challenge has been met! Our deepest thanks to everyone who stepped forward to generously contribute to the Matching Gift Challenge.

Great News! The Matching Gift Challenge is still on thanks to three families. Currently, there is $4,422.00 still left in available funds to match. As always, we greatly and sincerely appreciate your generosity.
Our Parish Expansion Project was officially kicked off with a Groundbreaking ceremony on June 25th with a final Sunday Mass in the existing church building.

NJ.com covered the groundbreaking, reporting on Bishop Emeritus Paul Bootkoski's call for parishioners 'to celebrate the growth of our parish through the generations,' as he recalled the generous 1991 gift of a new church to the Catholic families in the area from a donation made by the late John W. and Catherine Raymonds."

Read more...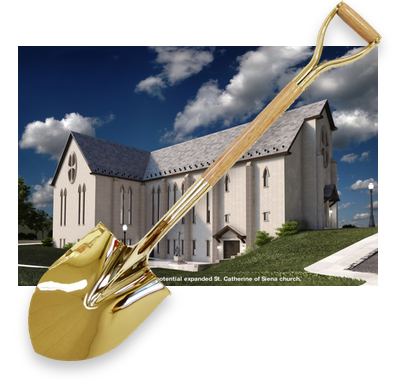 We request the honor of your presence at the Groundbreaking Ceremony for the expansion of St. Catherine of Siena Church

Sunday, June 25th
Mass at 1 p.m. followed at 2 p.m. by Groundbreaking Ceremony
2 White Bridge Rd., Pittstown, NJ

Join us for refreshments and fellowship.

It is with great pleasure that St. Catherine's would like to inform you of a Matching Gift Challenge. A small group of generous parishioners has made additional gifts totaling up to $20,000 to be used to match all new donations to the capital campaign from July 1st through September 1st, 2017. In essence every new dollar you donate will be doubled.

This is an exceptional opportunity to raise much needed funds for our church construction and we would like to especially encourage all those who have not yet contributed and those who have considered increasing their donation to take advantage of this unique moment.

You may mail or drop off your matching gift donation to the Parish Office or place your gift into the offertory basket at any Mass.

All donations must be explicitly marked "Matching Gift Challenge." Please mark the memo line of your check in recognition towards the Challenge.

As always, we greatly and sincerely appreciate your generosity.

Sincerely,

--St. Catherine's Stewardship and Steering Committees and Pastoral Council
The Capital Campaign continues to grow through your prayers and generosity.

Thank YOU!
If you have not yet pledged please consider helping us bring our parish back together. Perhaps you were not able to pledge in 2016 but may be able in the New Year!
There are still naming opportunities available to those who would like their pledge dedicated to various items within the church. For example, there are 31 long pews still available for a gift level of $5000.
Naming opportunities allow the parish to recognize the generosity of donors to the Campaign.
We appreciate the generosity of many in the parish and acknowledge that some church items were named over the years. Previous donors and their gifts will continue to be acknowledged.
Memorial gifts can also be made in honor of a loved one as well. All memorials will be recognized in a tribute book. In addition, they may appear on a plaque.
We have made significant strides toward our goal but still need your help and your diligence. We anticipate going back to the College of Consulters on January 17th and will inform you of our progress.


What happens after I pledge? | When should payment begin? | How do I make payments?

Your scheduled payments should begin immediately in accordance with the terms you indicated on your pledge card. For example, some parishioners are paying their pledge amount over three years, semi-annually, quarterly, or monthly. Please consider accelerating your pledge if you are able.

Payments may be made in any of the following ways:
By check, marked "United in Faith Campaign: Building for the Future"
For offertory envelope users: Place your payment in the United in Faith: Building for the Future offertory envelope (the one with an orange border), placing it any weekly collection basket. Please let us know if you are not receiving envelopes and would like to receive them in the future.
Through Online Giving: To open an account or add this contribution to an existing one, use the Parish website at the following link: Online Giving.
Please let us know if you are not receiving envelopes and would like to.
Your tax-deductible pledges will be recorded and a statement will be issued annually.
We thank you for your sacrifices and ask for your continued prayers for our campaign's success.
If you have not yet pledged, please prayerfully consider giving and make your generosity a tangible part of this beautiful season of Advent.
Read More...
We're reaching out to parishioners who haven't yet responded

It's important that we receive a response from every parish family to meet our financial goals and move forward with our church expansion project.

There are three ways to let us know your response: By e-mail, by phone or in person.

Read more...