Welcome to St. Catherine's!
Welcome to the website of the Parish of St. Catherine of Siena! Our parish is a vibrant, growing community with a passion for service and the love of Christ.

Please take some time to look around our site, and be sure to let us know if you have suggestions for improving it. We're glad you joined us!


Parish News and Information
My name is Pat Prakopcyk and I was born and raised in Hunterdon County. I have been involved in church music ministry from my teenage years playing at Mass each weekend. After graduating from Westminster Choir College, I continued to pursue my love of music as a director, organist and vocalist throughout several local parishes.

I am pleased to be directing the music program at St. Catherine and applying my experience and knowledge. I feel I will be able to enhance the program and with the help of the congregation, we can add a positive, joyful and new approach to this wonderful ministry. I look forward to meeting you over the next few weeks and am excited to be a part of this church community. Please feel free to come and introduce yourself after Mass!

Holy Thursday - Mass of the Lord's Supper: April 2nd at 7:00pm at the Parish Center

Good Friday: April 3rd - Stations of the Cross at 12:00 Noon at the Church

Celebration of the Lord's Passion at 3:00pm at the Parish Center

Holy Saturday: April 4th - Blessing of Easter Food Baskets at 11:00am at the Church

Holy Saturday - Easter Vigil Mass: April 4th at 7:30pm at the Parish Center

Easter Sunday: April 5th - 8:00am at the Church; 9:30am and 11:00am at the Parish Center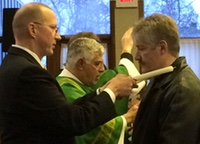 Each year, around the Feast of St. Blaise on February 3, St. Catherine's priests and deacons join other Catholic clergy to bestow a special blessing of throats. After all Masses the weekend of February 7-8, parishioners received this blessing.

According to the centuries-old tradition, two candles are blessed, held slightly open, and pressed against the throat as the blessing is said: "Oh God, deliver us through the intercession of Thy holy bishop and martyr, Blaise, from all evil of soul and body, especially from all ills of the throat."

Saint Blaise is the patron of physicians, sick cattle, wax-chandlers, woolcombers, and of wild animals because of his care for them and of those with throat maladies. He was a bishop of Sebastea in Armenia who was martyred during a Christian persecution in the fourth century.
From the St. Catherine's Rosary Society:

A special thank you, to the parishioners who have supported the Giving Tree this year. Your generosity has given some families, who were in great need, coats, boots and baby supplies. There were 361 gifts that were delivered to the Friendship Center as well as gift cards to Shop-Rite, Walmart and Kohl's amounting to $2.895.

Your kindness will allow families to provide some necessities for their children while they are trying to find ways of coping with the high prices and basic needs. The depth of their gratitude cannot be conveyed, since everyday is a struggle for some of the participants at the Friendship Center. Over 200 families are given assistance, and none of it is from the government, in order that the Center can maintain their Christian beliefs and programs.

Our "Families in Need" contributions amounted to $3,315. and will be used as needed, for our parishioners. The money will allow our church to help out some of our parishioners who might need help from time to time. Thank you for sharing your blessings with others! The success of the collection is due to your kindness and willingness to share with those less fortunate.

May God bless you and your families for your generous spirit! Wishing you a very healthy and happy new year!

St. Catherine's Rosary Society
On January 10th and 17th, the following children participated for the first time in the Sacrament of Reconciliation at St. Catherine's: Jake, Kaden, Julia, Julianna, Dominick, Matteo, Carlo, Riley, Olivia, Russell, Bryce, Kendall, Gabriel, Luke, Morgan, Lance, Brooke, Evann, Colin, Brady, Kathryn, Matthew, Cassandra, Jamie, Sophia, Nathaniel, and Kevin.

According to the XIII Ordinary General Assembly of the Synod of Bishops, the sacrament of penance and reconciliation is "the privileged place to receive God's mercy and forgiveness....In this sacrament, all the baptized have a new and personal encounter with Jesus Christ."

Father Chester asks all parishioners to keep these young faithful in their prayers as they continue to prepare for First Eucharist in May.

Mass Schedule
Mon, Tues, Thurs:
8:00 a.m. (Church)
Wednesday:
7:00 p.m. (Church)
Saturday:
4:30 p.m. (Parish Center)
Sunday:
8:00 a.m. (Church)
9:30 a.m., 11:00 a.m. (Parish Center)
Parish Calendars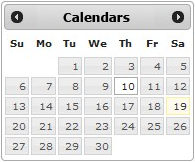 Upcoming Events
March 6: Soup and Stations of the Cross - 6-8pm @the Church
March 15: Knights of Columbus Corned Beef Dinner - 5:00pm @the Parish Center