Welcome to St. Catherine's!
Welcome to the website of the Parish of St. Catherine of Siena! Our parish is a vibrant, growing community with a passion for service and the love of Christ.

Please take some time to look around our site, and be sure to let us know if you have suggestions for improving it. We're glad you joined us!


Parish News and Information
December 24th:
Children's Pageant:

3:45 p.m. at Parish Center

Masses:

4 p.m. at Parish Center
6 p.m. at Parish Center
Midnight at Church
December 25th:
Masses:

8 a.m. at Church
9:30 a.m. at Parish Center
11 a.m. at Parish Center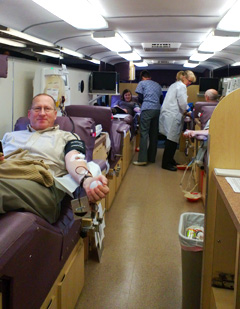 Some 35 donors kept the Community Blood Council of NJ Bloodmobile hopping at St. Catherine's first blood drive on Sunday, November 17. Workers tended to a "continuous stream" of parishioners, which enabled the parish to exceed its goal of 25 blood donors.

All donors received a t-shirt, bracelet, and were entered for a chance to win a pair of tickets to Super Bowl XLVIII at MetLife Stadium. Every donation also earned a contribution to the Hurricane Sandy Relief Fund. The Knights of Columbus led this event and thanked all the donors for their "big-hearted" support. Next year, the Knights plan to expand the drive to two bloodmobiles to accommodate the great turnout for the event.
Beautifully decorated home-baked goods were flying off the tables during the weekend of October 26th and 27th at the Rosary Society's Semi-Annual Bake Sale. The annual Autumn-themed Bake Sale was as popular as ever, with parishioners lining up for favorites like German chocolate cake, pumpkin muffins and apple pie.

At their monthly meeting in November, the Rosarians unanimously voted to donate $1,000 from the bake sale proceeds toward the total purchase of a beautiful artisan, life-sized outdoor nativity for the parish.
At Masses on Veterans Day weekend Nov. 9th and 10th, St. Catherine of Siena Parish embraced all Veterans by launching the Veteran Military Apostolate -- a brand new ministry introduced in May 2013 by the Diocese of Metuchen.

The community celebrated the return of two parishioners fresh from their tour in Afghanistan: Specialist Thomas Ruvo and First Lt. Andrew Baker, who participated in Mass in full dress uniform. The Liturgy also included Fourth Degree Knights of Columbus Color Guard in recognition of the dedicated service to God and country by those Veterans who continue to serve.

Read more...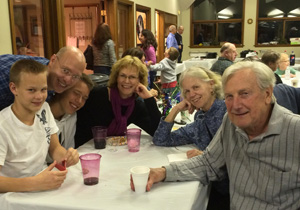 The aroma of garlic, marinara sauce and freshly grated cheese wafting through the air, along with Italian accordion music... It can only mean one thing: The annual Knights of Columbus Pasta Dinner is back.

On the evening of November 10th, St. Catherine's Parish Center was transformed into an Italian bistro as over 150 parishioners enjoyed a feast of spaghetti, meatballs, garlic bread and lasagna to and filled the Parish Center with friendship, song, and laughter.

Other highlights of the evening included: a wine/sangria station; delicious desserts; and a 50th wedding anniversary commemoration of longtime Knight, Bill Smith and his wife Diane. Attendees also donated to assist the survivors of the recent typhoon in the Philippines. The dinner, at a cost of $25 per family, has become a popular community gathering. The Knights plan to hold other parish dinners throughout the year.
Mass Schedule
Mon, Tues, Thurs:
8:00 a.m. (Church)
Wednesday:
7:00 p.m. (Church)
Saturday:
4:30 p.m. (Parish Center)
Sunday:
8:00 a.m. (Church)
9:30 a.m., 11:00 a.m. (Parish Center)
Parish Calendars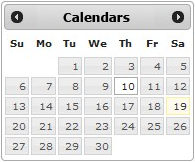 Upcoming Events
Dec 14-15: Fellowship Weekend Coffee and donut social after all Masses