Welcome to St. Catherine's!
Welcome to the website of the Parish of St. Catherine of Siena! Our parish is a vibrant, growing community with a passion for service and the love of Christ.

Please take some time to look around our site, and be sure to let us know if you have suggestions for improving it. We're glad you joined us!


Parish News and Information
On April 26, the St. Catherine's Parish Center was packed as parishioners piled in for the inaugural Family Mass at 9:30 a.m. Nearly 240 people, including youth from newborns to high schoolers participated in this family-centric Mass on Good Shepherd Sunday.

Parish 7th graders lined up behind personalized banner to process in with the Celebrants. During Mass, the youth served as ushers, altar servers, lectors, gift-bearers, music ministers and refreshment servers. With the help of a specially prepared worship aid -- young and more "experienced" parishioners celebrated Holy Mass together with contemporary worship hymns and a special homily geared to the youngsters.

Deacon Tony sat with the children at the foot of the altar to read the Gospel and Father Chester joined the sit-in afterwards for an interactive homily that compared Jesus and his sheep to children and their pets, which recognize their beloved owners and follow them wherever they lead.

Read more...
On Palm Sunday, March 29, about 45 of St. Catherine's youngest parishioners and parents joined in the fun of coloring Easter eggs and hunting for candy-filled eggs at the Parish Center. The Rosarians played host to this annual event.
Bet you didn't know the history of the Easter egg:

According to History.com, the egg has been an ancient symbol of new life and the spring season. "From a Christian perspective, Easter eggs are said to represent Jesus' emergence from the tomb and resurrection. Decorating eggs for Easter is a tradition that dates back to at least the 13th century. One explanation for this custom is that eggs were formerly a forbidden food during the Lenten season, so people would paint and decorate them to mark the end of the period of penance and fasting, then eat them on Easter as a celebration."
The Rosarians expressed their thanks to all adult helpers and to the teen helpers who jumped in to assist their younger brothers and sisters in Christ.
On the first Sunday after Easter, April 12 -- Divine Mercy Sunday, St. Catherine's celebrated the Feast of Divine Mercy. This day of mercy was preceded by the Divine Mercy Novena, which was said at the parish every day for nine days leading to the feast day.

About 60 parishioners gathered at the church for a special holy hour, which included hymns, exposition and adoration of Holy Eucharist, Scripture readings, recitation of the Chaplet of Divine Mercy and the Holy Rosary. According to the Divine Mercies Ministries, this devotion was given to Poland's Saint Faustina by Jesus Himself in 1931 in a message of mercy that she was told to spread throughout the world. In her many visions, Maria Faustina was asked to become the apostle and secretary of God's mercy, a model of how to be merciful to others, and an instrument to announce God's plan of mercy for the world.

Jesus told St. Faustina, "I desire that the whole world know My infinite mercy. I desire to grant unimaginable Graces to those souls who trust in My mercy." (St. Faustina Diary entry 687).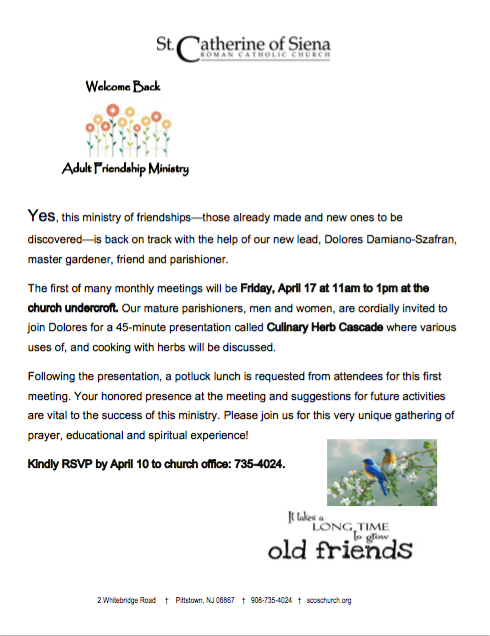 St. Catherine's Adult Friendship ministry has returned. Parishioner Dolores Damiano-Szafran will lead the first monthly meeting on Friday, April 17 at 11am to 1pm at the church undercroft. Mature parishioners, men and women, are invited to join the group for a presentation called "Culinary Herb Cascade" where various uses of, and cooking with herbs will be discussed. Following the presentation, a potluck lunch is requested from attendees for this first meeting.

Read more...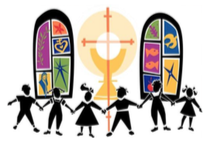 Parishioners have been asking for a youth-centered Mass, according to Father Chester. "Well," he said, "you asked for it -- you got it!"

Announcing St. Catherine's monthly Family Mass -- launching on April 26th at 9:30. All parishioners are invited -- especially families of teens and young children, who will get to see fellow youth parishioners serve at Mass as Altar Servers, Ushers, Gift-Bearers, Readers, Refreshment Servers and eventually...contemporary music ministers.

Also, the Celebrant will present a Homily geared toward the children to help them understand what is happening in the Mass and explain the Gospel readings at their level. This family-focused Mass will be held on the last Sunday of each month at 9:30 at the Parish Center: April 26, May 31, June 28, July 26, August 30, September 27, October 25, November 29, Dec 27.

Download a PDF flyer by clicking here.
Mass Schedule
Mon, Tues, Thurs:
8:00 a.m. (Church)
Wednesday:
7:00 p.m. (Church)
Saturday:
4:30 p.m. (Parish Center)
Sunday:
8:00 a.m. (Church)
9:30 a.m., 11:00 a.m. (Parish Center)
Parish Calendars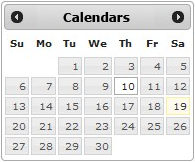 Upcoming Events
June 5th: First Friday Exposition of the Blessed Sacrament - 3pm @the Church