Welcome to St. Catherine's!
Welcome to the website of the Parish of St. Catherine of Siena! Our parish is a vibrant, growing community with a passion for service and the love of Christ.

Please take some time to look around our site, and be sure to let us know if you have suggestions for improving it. We're glad you joined us!


Parish News and Information
8:00am - Mass @Church
12:00pm - Mass @Church
4:30pm - Service @Parish Center
7:00pm - Mass @Church

From the St. Catherine's Rosary Society:

A special thank you, to the parishioners who have supported the Giving Tree this year. Your generosity has given some families, who were in great need, coats, boots and baby supplies. There were 361 gifts that were delivered to the Friendship Center as well as gift cards to Shop-Rite, Walmart and Kohl's amounting to $2.895.

Your kindness will allow families to provide some necessities for their children while they are trying to find ways of coping with the high prices and basic needs. The depth of their gratitude cannot be conveyed, since everyday is a struggle for some of the participants at the Friendship Center. Over 200 families are given assistance, and none of it is from the government, in order that the Center can maintain their Christian beliefs and programs.

Our "Families in Need" contributions amounted to $3,315. and will be used as needed, for our parishioners. The money will allow our church to help out some of our parishioners who might need help from time to time. Thank you for sharing your blessings with others! The success of the collection is due to your kindness and willingness to share with those less fortunate.

May God bless you and your families for your generous spirit! Wishing you a very healthy and happy new year!

St. Catherine's Rosary Society
On January 10th and 17th, the following children participated for the first time in the Sacrament of Reconciliation at St. Catherine's: Jake, Kaden, Julia, Julianna, Dominick, Matteo, Carlo, Riley, Olivia, Russell, Bryce, Kendall, Gabriel, Luke, Morgan, Lance, Brooke, Evann, Colin, Brady, Kathryn, Matthew, Cassandra, Jamie, Sophia, Nathaniel, and Kevin.

According to the XIII Ordinary General Assembly of the Synod of Bishops, the sacrament of penance and reconciliation is "the privileged place to receive God's mercy and forgiveness....In this sacrament, all the baptized have a new and personal encounter with Jesus Christ."

Father Chester asks all parishioners to keep these young faithful in their prayers as they continue to prepare for First Eucharist in May.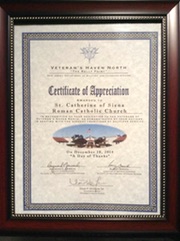 On December 10, 2014, the N.J. Department of Military and Veteran's Affairs presented a certificate to our Veteran Military Apostolate in appreciation for our parishioners' dedication, donations, and "selfless service" made throughout the year to Veteran's Haven North in Glen Gardner.

Under the direction of the New Jersey Department of Military and Veteran's Affairs, Veteran's Haven North is a transitional housing program for homeless veterans where they can reside for up to two years. Its team of professionals specialize in psychosocial rehabilitation, social services, addictions, vocational rehabilitation, and nursing. The individualized, compassionate treatment and care is provided with the purpose of attaining realistic life goals and instilling hope and wellness. Upon completion, veterans are able to return to their communities as productive, self-sufficient citizens.

The St. Catherine's Veteran Military Apostolate supports our parishioners who are or have served in the military as well as other veterans in New Jersey. Please see the bulletin or the St. Catherine's website for news on upcoming Veteran Military Apostolate activities.
In November and December, the hearts and minds of St. Catherine's parishioners were inspired through Jeff Cavin's The Great Adventure: A Quick Journey Through the Bible, an eight-week video program and discussion group held at the church during Advent. Facilitated by our deacons-in-training Stephen Kassebaum and Ed Ciszewski, with commentary from our pastor, Fr. Chester, participants were led through God's family plan for His people.

Read more...
Mass Schedule
Mon, Tues, Thurs:
8:00 a.m. (Church)
Wednesday:
7:00 p.m. (Church)
Saturday:
4:30 p.m. (Parish Center)
Sunday:
8:00 a.m. (Church)
9:30 a.m., 11:00 a.m. (Parish Center)
Parish Calendars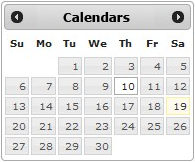 Upcoming Events
February 6: First Friday Exposition of the Blessed Sacrament - 3pm-7pm @Church
February 7-8: Blessing of Throats Following Mass