Welcome to St. Catherine's!
Welcome to the website of the Parish of St. Catherine of Siena! Our parish is a vibrant, growing community with a passion for service and the love of Christ.

Please take some time to look around our site, and be sure to let us know if you have suggestions for improving it. We're glad you joined us!


Parish News and Information


2018 marks Father Chester's 25th Anniversary of his Ordination to the priesthood and the entire St. Catherine's parish is invited to join the celebration.

A celebration Mass will be held at the parish center at 2 o'clock on April 15, followed by a dinner reception at 3:30 at St. Edward the Confessor parish center in Milford. The dinner is BYOB and reservations are $20 for adults and $7 for children.



To make a reservation, fill out the form available at the parish center or download it here and return it to the parish center with your payment by April 8th.

Gift donations will also be accepted. Additional details are available in the form or by contacting Margaret Rocca at 908-996-3226 or by e-mail at mrocca@ptd.net
Bishop Checchio's Annual Appeal Message is a timely reminder of how blessed we are to be able to carry out the work of Jesus in our own community. His letter to our parish is available here and his video message can be viewed below.

Consider your own abilities to help our diocese continue its mission by making a sacrificial gift, "knowing that we are cooperating with the grace of the Holy Spirit and Lighting a Fire in the Heart of our World."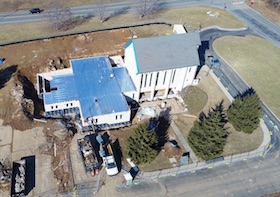 A new photo gallery shows significant progress on the expanded church building, with the transept clearly visible and the walls beginning to rise up from the foundation:

Gallery Five

A slideshow with 25 additional photos can be seen in the parish center narthex before and after weekend Masses.

Gallery Three shows the footprint of the new addition clearly taking shape, while Gallery Four sees the laying of the new foundation starting.

Galleries One and Two are still available as well.
8:00 a.m.: Mass
Noon: Mass
4:30 p.m.: Service
7:00 p.m.: Mass
Thank you, parishioners and friends of our parish, who have helped us achieve a significant milestone in our Church expansion project.

Together, you have contributed $1,026,000.
295 parishioners have donated $922,000
24 non parishioners contributors have donated $104,000
In recognition of this amazing effort, we listed every contribution in last weekend's bulletin. This milestone merits some reflection on our continuing needs.
Nearly 46% of our parish families who consider themselves active have chosen not to participate, at any level, in our project.
Based on the current construction schedule, all invoices from the contractors are expected to arrive prior to the end of the campaign. We feel compelled to renew our many appeals to all parishioners to assist in this critical effort:

For parishioners who have not begun making payments, please do so.
If your pledge payments are behind schedule, please work to be current.
If possible, please accelerate your payment schedule.For those who have not made a pledge, please reconsider your initial decision and support the parish with a new pledge.

Remember, every dollar raised prior to the application for the Diocesan loan will save a dollar plus interest for years to come.
Finally, we are looking for a small group of parishioners (2-4) who would be willing to underwrite the $16,000.00 cost of placing the acoustical partitions between the meeting rooms in the undercroft. Current thinking is that the initial cost would be quickly offset by the cost of heating and air-conditioning the entire Church for weekday Masses, which are normally lightly attended. Having these partitions available will facilitate the creation of a small chapel in the undercroft which will be air conditioned during the summer months, and heated during the winter months, for normal, administrative operations.
Please remember that while everyone has a vested interest in our church progress, for safety reasons everyone is prohibited from entering the premises during the active construction. No exceptions! Safety is a priority and must be respected at all times.
Mass Schedule
Mon, Tues, Thurs:
8:00 a.m. (Parish Center)
Wednesday:
7:00 p.m. (Parish Center)
Saturday:
4:30 p.m. (Parish Center)
Sunday:
8:00 a.m. (Parish Center)
9:30 a.m., 11:00 a.m. (Parish Center)
Parish Calendars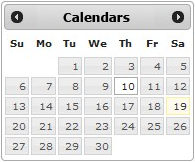 Upcoming Events
March 23rd: Way of the Cross - 7:00pm @The Parish Center
March 29th: Holy Thursday Mass - 7:00pm @The Parish Center
March 30th: Good Friday Way of the Cross - 12:00pm @The Parish Center
March 30th: Good Friday Passion - 3:00pm @The Parish Center
March 31st: Easter Vigil Mass - 7:30pm @The Parish Center
April 1st: Easter Sunday Mass - 8:00am; 9:30am; 11:00am @The Parish Center
Campaign Progress
Goal: $3,100,765
Parishioners Participating